I am frequently asked about homeschooling and the materials that I use. I concentrate on the 3 Rís-Reading, wRiting, and aRithmetic. My curriculum for History and Literature are by Abeka. My math program is Math-U-See by Steven P. Demme, and my Language Arts program is Learning Language Arts Through Literature by Common Sense Press. We supplement with many other resources including Science and Health from Abeka, Writing Down the Days by Lorraine M. Dahlstrom, and Oops Your Manners are Showing by Peggy Norwood and Jan Stabler.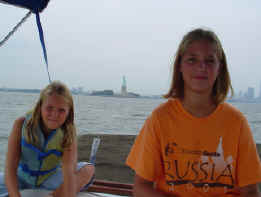 Under the tutelage of Miss Liberty
I also use a variety of educational software programs that can be picked up inexpensively at places like Ross and Marshalls for a change of pace. And, of course, I canít understate the value of life experiences the kids are getting from cruising.

I would like to take credit for these brilliant choices, but frankly, my sister is a teacher and homeschooler and I use the same products she carefully selected for her son. There are a million and one choices out there and it is difficult to weed through it all and pick what is best for your child. I found that a combination of different manufacturers was preferable to buying an entire curriculum from one vendor as none seemed to excel in all subjects but glowed in certain areas. I would recommend attending a Homeschool Expo and more so talking to every homeschooling parent you can. It is paramount to see and preview all the materials before selecting you vendor. The brochures can look and sound fabulous but the content of the materials can be very disappointing. Conversely, the material may not be flashy and eye catching but the content can be absolutely revolutionary, like the Math-U-See program.

I was incredibly intimidated at taking on homeschooling. I had always felt like I could not even keep track of what the girls were doing in school so how was I going to manage their education. But I had two issues I had to deal with. First, I was opposed to Devon receiving the Hepatitis vaccine (some literature links it to auto-immune disorders like Lupus) and she would not be permitted into sixth grade without it. Second, we were going cruising and although my sister would be cruising with me, it may not be forever nor would it be fair to lay the responsibility of educating my children on her.

As I mentioned, my sister helped me pick my curriculum. She had been to the Expos and had seen and used the materials we chose. She guided me in my purchases. She recommended the text and usually the accompanying workbook and answer keys. But said the other materials were really optional and usually unnecessary like the quiz and test books as they are an added expense and you can make up your own tests and quizzes plus the texts and workbooks have built in checkups and tests. In all, I spent less on all my materials (most new some used) than on one monthís tuition for the girlsí Catholic School or on each seasonís wardrobe they required by peer pressure in the public school.


So, September 2003 rolled around and my sister had to go back to California for a few weeks. Yikes, I had to start off on my own. I ran out to the teacher supply store, bought all kinds of neat things to juice the kids like posters and pencils and tools and gadgets (unnecessary, but it was our baptism by fire and I wanted to be fun). I had the school schedule from their old school and decided to loosely follow their start and holiday schedule. I started out by making a schedule with the subjects to be covered and the time period to endure it (like college, remember?). Well, that was good in theory but I could not figure out why Devon was done in the first 15 minutes of the subject period and Alex needed an extra 20 minutes after the end of the period.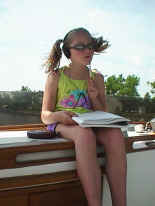 The Thinker
Alas, kids are individuals and here in itself is the reason why homeschool children in general are far and away better educated than their institutional counterparts. Homeschoolers work in a subject until they have mastered it, they are not pushed along at the pace of the class. Devon and Alex are two grades apart so this was no big deal. Devon is also meticulous, focused and task oriented while Alex, although just as bright, tends to be less organized and daydreams a lot.


Over the next couple months we fell into a routine. I stopped worrying about how many minutes were spent on a subject and made sure a reasonable amount of material was covered in a day. I looked at the text and figured how many pages or chapters had to be covered a week to finish the text in 36 weeks (roughly the amount of a school year). Some subjects needed to be covered almost everyday and others a couple times a week. In the morning I would write down the girls assignments for the day. Devon would be finished in half the time of Alex.

We have 4 core subjects and 2 electives a day. If we are cruising in an area that is rich in history or science material-like St. Augustine (the oldest city in the US) or snorkeling the reef at Looe Key, these are used in place of electives. My kids love to write (thankfully) so it is easy to use our travels as educational material for research and writing skills. Some days I do something totally different so that school is not monotonous. For example, they can play games that are math or educationally based like Division War, Sets, or Scategories. If there is a library nearby we spend the afternoon there. They also use the computer software, which is often learning through game-like lessons.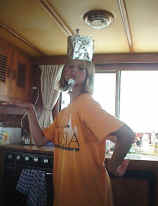 King Tut

We have several programs. The Jumpstart series is excellent for lower grades, the girls have pretty much grown out of them now. We currently have Middle School Advantage (includes: Earth Science; Spanish; Science and Technology; Geometry; US History; Pre-Algebra; Algebra; Grammar and Vocabulary; Typing), Math and Science Accelerator (includes: Mind Twister Math; Thinkiní Science ZAP!; Mighty Math Calculating Crew; Space Academy GX-1), and World Book Encyclopedia on CD, each of which I picked up for less than ten dollars. We also have a Mavis Beaconís Typing Tutor, Creative Writer 2, Kidworks Deluxe, Comptonís Encyclopedia, and Kidpixs Deluxe. We have baking and cooking events, sewing and crafts, art stuff, and phys-ed activities. Believe it or not we have a basketball, soccerball, tennis rackets/balls, a football, 2 kayaks, a dinghy that can be rowed (with or without the cat), a tube and a hot dog to tow behind the boat, boogie boards, a skim board, fishing gear, lobster ticklers, crabbing gear, an assortment of nets, and snorkeling gear. We also carry a guitar, flute, Roland keyboard piano, 2 recorders, and a harmonica. I have software and books to learn Guitar and Flute put out by Alfred. We also brought the girls piano books.

I am fortunate that New Jerseyís only requirement is to notify the local school board of your intent to homeschool you child, which I did. I keep my own records just in case. I keep all the assignment sheets listing what the girls do each day. I also keep most of their writing assignments and interesting or outstanding works. They work out of approved curriculums so I donít usually keep their work books year to year. Space is always an issue on a boat so I try not to keep any more than I have to. I have included my resources with URLs below, enjoy!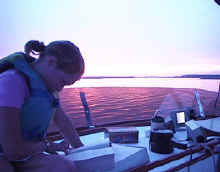 Deep book!
Resources: (Return to Top)

Math-U-See by Steven Demme
www.mathusee.com

Abeka
www.abeka.com

Learning Language Arts Through Literature
www.commonsensepress.com

Writing Down the Days by Lorraine M. Dahlstrom, Freespirit Publishing
www.freespirit.com

Oops Your Manners are Showing by Peggy Norwood and Jan Stabler
www.oopsgroup.com

Music Books:
www.alfredpub.com


Other links of interest:

http://www.classroomearth.org/

http://www.pbs.org/teachersource/arts_lit.htm

http://www.sdcoe.k12.ca.us/score/cyberguide.html

http://school.discovery.com/schoolhome.html

http://www.home-school.com/

I do not spend much time online. If you know of good homeshool sites please forward the URL to me. Thank you and good luck in your homeschooling endeavors. Remember, most of our great forefathers were homeschooled.

Betsey

Click HERE to Email us...

Copyright © 2004 By Southern Cross Productions. All Rights Reserved.